ADAM COHEN


"Melancolista, Canada 2004
1. Hey Jane
2. Embrasse Moi
3. Sincerement
4. Metro Melancolie
5. Happiness
6. Macho Phalo
7. New York C'etait
8. Depuis Que T'es La
9. Ma Faiblesse
10. Sur Tes Levres
11. J'en Ai Marre


All songs written by Adam Cohen (in French).
Emi Canada 724357678421, June 2004.


---
"Adam Cohen", The debut album, USA 1998
| | |
| --- | --- |
| Track listing: | |
Album produced by Steve Lindsey
Mixed by Bob Clearmountain
except "Amazing" mixed by Bill Schnee
Mastered by Doug Sax
Sony Columbia 01-488703-10
Total timing 50:30

Photo &copy 1998 by K. Westenberg and Sony Music.
Used by permission from Sony Finland.
---
Live in Paris on June 15, 1998, at The New Morning Club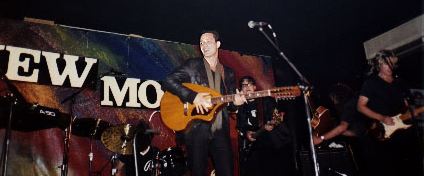 Photo &copy 1998 by Albert Labbouz. Used by permission.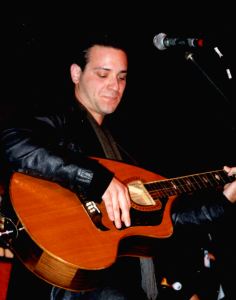 ... ..
Photos &copy 1998 by Hervé Cesard. Used by permission.


---
| | |
| --- | --- |
| | Adam Cohen with Mrs. Esther Cohen, Leonard's sister. New York July 7, 1998. Photo &copy by Karen Weitzner. Used by permission. |
---
Photo from Adam's concert
in London, June 1998 (at Water Rat Club)
&copy 1998 by Lizzie Madder.
Used by permission.
---
Adam Cohen is proud of his father
by Leif Gjerstad for NTB, Norway
Translated by Geoffrey Wren
| | |
| --- | --- |
| | Even though Adam's music is unlike Leonard's, his looks are the spitting image of his father's. His debut CD, titled "Adam Cohen," is scheduled for release in the middle of June. Adam says his father has always been a big source of inspiration - ever since he was 5 years old and they sat at the kitchen table making songs together. |
Adam was drinking Farris water and taking quick looks out of the hotel window as he described the great respect he has for Leonard Cohen; respect for him both as a father and as an artist. He is very proud to be Leonard's son. Adam says that the best way he can thank his father is to succeed in putting his own soul and identity into his music. The lyrics for his songs are very important, he explains, because he wants to tell universal stories through his own eyes as they have penetrated his soul.
Adam was born in Montreal, but now lives in Los Angeles. He had a rootless period following the separation of his parents. He has written 60 songs. Before selecting the ones to be included on his debut album, he asked for assistance from other songwriters. Two of them are Phil Roy and Tonio K, who are now credited as co-writers. They were helpful indistilling the songs into the versions appearing on the CD. Adam is very satisfied with the result, as is the producer, Steve Lindsey. Adam exuberantly describes that everyone he asked to assist him came through. One person that Adam didn't ask help from was his father. But, Adam says Leonard participated in developing the album all the same. "I asked for his advice as we went along, and played demos for him. He rarely needed to say anything, because his facial expression usually told me what he thought. It seemed that he especially liked the fact that I had found my own personal voice."
Adam believes that he and his father may one day work together, although not necessarily on stage. A more likely location would be in a studio session. Adam closed his interview by giving his greetings to all of his father's Norwegian friends and fans. He told them, "My father is keeping well - he is in a Buddhist monastery on Mount Baldy."
---
Norwegian shock for Cohen jr.
Øyvind Rønning for Dagbladet, Norway (June 2, 1998)
Translated by Geoffrey Wren


Photo: Lars Eivind Bones (from the homepage of Dagbladet)

"Here I am in Oslo ..." improvises Adam Cohen (25) on his
Brazilian 12-string guitar that has only 8 strings (!) .
We met him in an Oslo hotel room.

Adam Cohen has at least three things in common with pappa Leonard: looks, music and a romantic encounter with a Norwegian on the island of Hydra. He has spent a long time finding his unique artistic style, and his debut CD, portraying his own personality, will be released shortly.

Adam has never met Marianne, his father's long-time Norwegian girlfriend. That was an affair that started back in the fifties on the Greek island of Hydra. But Adam knows the story of Leonard and Marianne, certainly through the song, "So Long, Marianne".

Adam also has many happy memories from his long summer holidays at his father's house on Hydra. There is one episode that he particularly remembers. "One summer I met a beautiful, young Norwegian girl on the island. We spent a very pleasant evening together ...," he tells.

- And ...?

"I then discovered that the girl was Marianne's daughter. I had had no idea that was who she was!"

- Do you plan to see her again while you are in Oslo?

" No," says Adam laughingly. "When we realised each other's identity, we put a stop to it. It would have been just too far out!"

Adam Cohen was born in Montreal, Canada, and has since lived in various other places in USA and Europe. For the past couple of years he has mostly been in a Los Angeles studio with other musicians, including Jim Keltner, Dean Parks and Greg Leisz.

Adam doesn't deny his paternal roots - quite the contrary. Leonard Cohen is amongst his favorite musicians, together with Randy Newman, Peter Gabriel, Bob Marley and Prince. "My father's work has had a great influence on me," he says, "especially the poetic and lyrical way he tells a story."

"Throughout my life I've tried to copy my father, but without success. I've also tried imitating Stevie Wonder, Sting and Marvin Gaye. Those experiments eventually lead me to the discovery of my own voice," states Adam Cohen.
---

Thanks to Kelley Lynch, Geoffrey Wren and Dick Straub for their help
in making this page (1998), and to Eva Poola for the 2004 update!


---