RENDEZVOUS WITH HYDRA






See you again on Hydra in 2019:
Meetup Dates - Friday June 7 to Sunday June 9
(We may have something already on June 6)

Registration opens in September-October 2018





Leonard has left us but we have his music and poetry, and all the beautiful memories. The Meetup and all other activities will take place as planned!

Hydra Pays Tribute to Leonard here , and Residents of Hydra & the Mayor remember Leonard here





While waiting for the 2019 Meetup,
fly around the island here.
Video &copy 2014 Geotag Aeroview Ltd.



Dia Show and Videos by Wybe Lageveen here


We have also created three Photo Galleries:

- construction of our stone bench
- inauguration of the stone bench dedicated to the memory of Leonard Cohen
- street naming & open air concert, both organized by the Municipality of Hydra
You will find all these here

More photo galleries coming sooner or later
Article in the Guardian (UK) by Caroline Brothers here


Our meetup in the Greek Press: here


PROGRAM OF THE 2017 MEETUP



This was our 2017 program. We also met every evening at Roloi!

THURSDAY JUNE 8

11 am City Walk # 1 guided by Jarkko (1 h).

FRIDAY JUNE 9

8.30 Departure to Epidaurus from the harbour.

11.00 City Walk # 2 guided by Henning.

21.30 Concert screening # 1 at the Hydra Cinema Club.

SATURDAY JUNE 10

11.00 City Walk # 3 guided by Wijbe.

19.00 Inauguration of the Stone Bench donated by members of the Leonard Cohen Forum

21.00 Open Air Concert by Qualia. Organizer: the Municipality of Hydra.

SUNDAY JUNE 11

10.00 Monastery Walk up to the mountain to the Monastery of Eliah. Guided by Joy Ezekiel. About 3 h.

21.30 Concert screening # 2 at the Hydra Cinema Club.






Our central meeting point is always the Roloi Tavern in the harbor, next to the clock tower. Roloi's friendly staff is ready to serve us day and night!





Our local organizer is our old friend Lakis Christidis. Lakis is the guide of our Epidaurus trips, and he is also boss at the Hydra Cinema Club. You may find him at his shop 21st Century in the harbor, close to the Alpha Bank and opposite to the Donkey station. Drop in if you need some information about Hydra. His shop also offers a large variety of jewelry (gold, silver, stones), clothing, shoes and accessories.


Participants of the 2017 meetup:

Aebi, Christoph - Switzerland
Andrew & Katherine - Australia
Archer, Yvonne & Paul - Canada (BC)
Arjatsalo, Jarkko & Eija - Finland
Armstrong, Janet & Kernohan, Derek - Northern Ireland
Austin-Hancock, Andrew - UK
Berg, Christine - The Netherlands
Bērziņš, Aivars & Ilse & children Una & Tiina - Latvia
Bernecker, Daniela & Oliver - Germany
Blum, Barbara - Austria
Bohan, Cecilia, USA (NY)
Boudry, Claude & Gelbert, Anne - France
Brophy, Brid - Ireland
Brothers, Caroline - France
Brown, Jessica & Julia - UK
Cardelus, Meritxell - Andorra
Carlyon, Jan & Zöe - UK
Carrog, Eleri - UK
Casey, Trisha & Sarah & O'Connor, Molly - Ireland
Christelle - France
Christensen, Amrei & Stella - Denmark
Coque, Montse - Spain
Costello, Joe - Ireland
Daykin, Janet - UK
Denholm, Alistair & Allie - UK
Dolfino, Andrea & Marco - Italy
Doupis, Nikolas - Greece
Dullemont, Hugo & Hélène - The Netherlands
Dutoit, Estelle - Sotuh Africa
van Duyn, Lynette & Sieberhagen, Engela - South Africa
Egle, Ute & companion - Germany
Everatt, Dave - UK
Ezekiel, Joy - USA (TX)
Falkowski, Artur - Poland
Farebrother, Sue & de Kreij, Gert- UK/The Netherlands
Fleuren, Joan & Lucassen, Bep - Thailand
Forsyth, Ken - UK
Franz, Henning - Germany
Frauke - Germany
Gabrea, Luminita - Germany
Garland, Rita & Malcolm - Ireland
Girrbach, Werner - Germany
Goldstein, Allison, John & Anna - France
de Graaff, Aad & Bogaard, Gery - The Netherlands
Gutschmidt, Caren & Kloss, Hans - Germany
Hafid - France
Hauerslev, Marie & Thomas, Ian - Australia
Hawthorne, Sarah - Northern Ireland
Helm, Roland - Germany
Hiljanen, Sinikka - Finland
Howlin, Patrick & Dolan, Mary - Ireland
Houghton, Barry - UK
Jessen, Inger & Carlsen, Aage - Denmark
Jerič, U & M - Slovenia
Kavanagh, Alan .- UK
Kavvadias, Stathis - Greece
Kettel, Gerd - Germany
Kokkonen, Ykäjuhani & Marjaana - Finland
Kowalczyk, George & Trainor, Gemma – UK
Krasuski, Krzysztof & Ciok, Krzysztof - Poland
Koutselini, Sophia & Shaw, Neil - Greece/South Africa
Kuivalainen, Petri & Aarne & Oljakka, Auli - Finland
Lageveen, Willy & Wijbe - The Netherlands
Lauder, Noni & Ernie - Australia
Leinenbach, Ben - Germany
Lex, Christa - Germany/USA
Liptrot, Philip & Jean - UK
Lohse, Juergen & Gesine - Germany
Lopez Acosta, Jean-Michel - France
Loughrey, Angel & Connolly, Kathleen & Hanan, Robin & Carr, Olivia & Black, Mairead - Ireland
Louis, Francine - France
Lowe, Todd & Kerri - USA (TN)
Lowther, Pauline & Medhurst, Jane & Storey, Jane & John - UK
Lynch, Paul & Mandravelou, Konstantina - Ireland
MacMillan, Scott & Helen - UK
van der Mark, Gerda - The Netherlands
Marshall, Wendy and Tony - UK
Martonyi, Eva - Hungary
Massa-Mechiels, Eddy & Ann - Belgium
McCullough, Colin - Ireland
McGlynn, Mary-Ann - Ireland
McKenny, Gerry & Padraig - Ireland
McSweeney, Helen & Hutchinson, Marian & Creasey, Mary - Ireland
McWilliams, Stan - Ireland
Meijer, Miriam - The Netherlands
Mickey of One, Lord & Galant, Justyna - UK/Poland
Millar, Hugh & Helen - UK
Moxey, Brian & Seidler, Janice - Cyprus
Nicolaescu, Laura - Romania
Nielsen, Marianne - Denmark
Nolan, Marie & Noonan, Albert - Ireland
Nowlan, Jenni & Parr, Josie - UK
O'Connor, Brian & Carol - Ireland
O'Mahony, Sheila - Ireland
O'Reilly, Amber & Kieran - UK
Ooievaar, Oscar & Babet - The Netherlands
Parry, Carys - UK
Peters, Steve - UK
Pigozzi, Paola - Italy
Podebradska, Vlasta - Czech Republic
Price Jones, Dafydd - UK
Remy, Judy - France
Rennie, Elizabeth - UK
Riise, Anne & Struksnes, Solveig - Norway
Robinson, Jane & McConnell, Boo & Dick, Julie - Northern Ireland/England
Rohr, Gabriele & Reinhard - Germany
Rucker, Claudia - Germany
Sanders, Jan & friend - The Netherlands
Savi, Antonio & Nappi, Milena - Italy
Schmaltz, Bruce & Monique - Canada (AB)
Serrano, Pedro & Rodrigues, Ana - Portugal
Skill, Steve & Bridget - UK
Smale, Christine - Jersey
Spindler, Régine & Daniel - France
Stubbs, Kerstin - Sweden
Tabor, Gudrun & Kai - Denmark
Templeton, David & Joan - USA (CT)
Uunila, Pertti & Penttilä, Johanna - Finland
Vainio, Maire & Pentti - Finland
Valiquette, Solange & McElroy, Sandy - Canada
Viana, Maria - Portugal
Volk, Connie - Germany
Wan, Agnes - China
Watkin, Rhian - UK
Weinrauch, Harald & Bartsch, Regina - Germany
Williams, June - UK
Zia, Stephanie - UK
van Zwietering, Lia & Dick - The Netherlands
(208)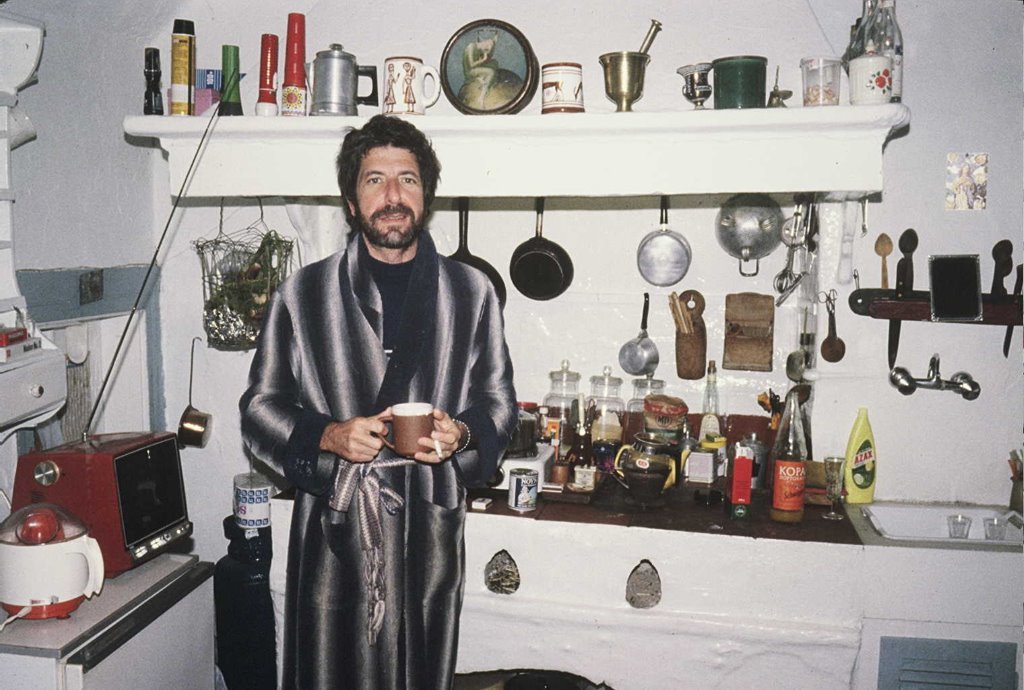 Leonard in the kitchen of his Hydra house in 1981.
Photo by Bruce Brown. Posted here with his permission.



Some Travel Hints
Book your flight to El.Venizelos, the Athens International Airport


You may use either train or bus to get from the airport to Piraeus.

- Take the X96 bus to Piraeus. The stop is right outside the arrivals entrance at the airport. This bus runs day and night at about half hour intervals. Buy your ticket at the kiosk and then validate it in the machine on the bus. This bus will take you straight to the harbour in an hour or an hour and a half depending on the time of day.

- If you choose the train: At the airport, go out and follow signs "To Trains". Buy a ticket for Green Line # 1 to Piraeus (terminal station). In Piraeus, use the main exit, turn to left and walk a few hundred meters to find the Dolphins. - More travel options and hints at www.hydradirect.com
Take a Dolphin hydrofoil from Piraeus to Hydra. Book your tickets on-line at www.hellenicseaways.gr. The route is Piraeus - Hydra and it takes about 90 minutes. Online reservations with credit card.


Connect with www.hydradirect.com for general information, accommodation info, culture news, local business etc


Connect with www.hydra.com.gr for hotel etc. information.


In 2002 we had our big Leonard Cohen Event on Hydra (report here). Later we have had biennial meetups in 2005, 2007, 2009, 2011, 2013, and 2015. Scroll down to find information on the previous meetups!


The Hydra Meetup section on the Forum.







This invitation was posted on September 11, 2016



Friends,

It's time to announce our next meetup on Hydra! It will take place during the second weekend of June 2017, from June 9 to 11. It's possible that our excursion to the mainland will be on Thursday June 8, so it would be best to reserve the days from Thursday to Sunday for your stay. Every time some of us have come a bit earlier (or have added some days after the meet up - it will be up to your own plans!)

In 2002 we had our big Leonard Cohen Event on Hydra (report here). Later we have had biennial meetups in 2005, 2007, 2009, 2011, 2013, 2015 and now again in 2017!). Scroll down for Meetup reports!

In 2013 and 2015 we've organized an one day excursion on the Peloponnese across Hydra, to visit the ancient theater of Epidaurus and other picturesque sites in the mainland. These trips have been very popular, and we probably will do it again either on Thursday June 8 or Friday June 9. Number of seats in the bus will be limited to about 50. More about this later. In 2015, the price was 70 eur including boat, bus, ticket to the museum, delicious meal and guiding by our local friend Lakis. Budget for 2017 is still open (it will be up to the number of people who want to do the excursion). Lakis has promised to make a bit different route this time. This way everybody will have something new to see.

We also hope to have the grand opening of the Famous Stone Bench! At the moment the Municipality is still waiting for final approval from the Historical Office in Athens. The city plans to build the bench during the Winter. Let's keep fingers crossed!

We will also rent the Open Air cinema for either Saturday or Sunday evening, and are going to show you some interesting video footage... Some 10-20 eur per person will be collected to pay the rent, the fee will be up to the number of participants. Last time we had 160 Cohenites on the island, but earlier the typical number was some 50-60.

The program with more precise details will be available next Spring. We have posted this announcement already now, in September 2016, so that you may make necessary arrangements at your work and reserve your flights and accommodation as early as possible.

We have to underline that this will not be any official gathering, just a meetup for people who want to spend some time on the beautiful island with like-minded Cohenites. We will give some advice about the connections from Athens/Piraeus to Hydra and some addresses for booking your accommodation, but all arrangements are up to the travellers themselves.

Early June has been chosen again for several reasons. First of all, the tourist season has not yet begun - there are rooms available at all hotels, and the prices are lower than a week or two later. The weather is ideal, not yet hot but warm enough. The restaurants are not full, and serve - as always - most delicious food.

One more time: this unofficial gathering is for people who want to spend some time together on the beautiful island. We will suggest good restaurants for dinners, we enjoy some Mythoses at the Roloi Bar in the harbour, maybe do some walks in the Hydra city and up to the hills -- it will be more like a holiday! We hope that those who play guitar will take their instruments with them!

Even if the meetup is less formal than our Events, we need to have some idea of the number of participants. Please let us know by email to Jarkko (see below) if you plan to come. Your name will be listed on this page (let us know if you don't want to show it).

Questions will be answered and the meetup discussed on our Forum

Looking forward to seeing you next year!

Jarkko









2015 Photo Galleries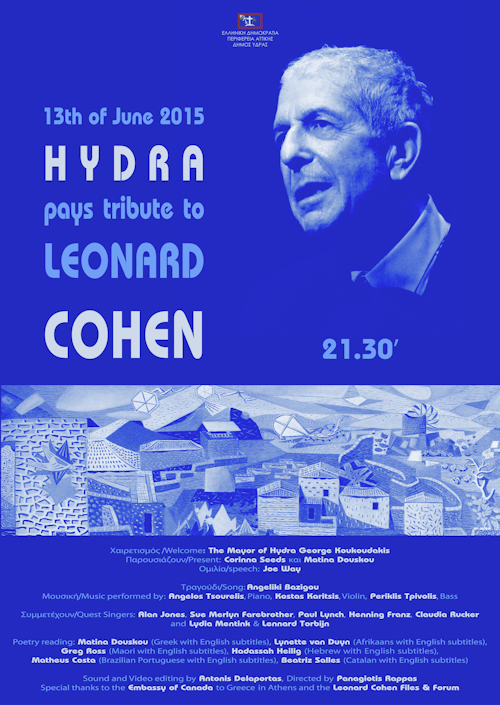 See the poster in full size here




Photos by Eija & Jarkko here

Direct links to sub-galleries:

Excursion to the Peloponnese here
Hydra Encounters here
City Walk and Walk to the Bench sites here
The Hydra Event - the Saturday night celebration here
Days and Nights at Roloi here
Hydra Views here

Picture show by Willy & Wijbe here
The Hydra Event video by Willy & Wijbe here
Roman's video links here
Lynette's video here
Program of the 2015 meetup on Hydra:

FRIDAY June 12:
Boat/Bus tour to the mainland: the ancient theater of Epidaurus (http://en.wikipedia.org/wiki/Epidaurus) and other points of interest.

SATURDAY June 13:
14 o'clock City Walk
17 o'clock Walk to the proposed Bench site
21 o'clock The Leonard Cohen Event, organized by the Municipality of Hydra. Poetry and Songs of Leonard Cohen.

SUNDAY June 14:
10 and 17 o'clock: our traditional walk up to the Monastery, guided by Mark and Joy Ezekiel
21 o'clock, Screening of one of Leonard's concerts at the Cinema Club.

Participants of the 2015 meetup on Hydra:

Aaftink, Mary - Canada (ON)
Aebi, Christoph - Switzerland
Arjatsalo, Jarkko & Eija - Finland
Aschenbrenner, Brigitte - Germany
Austin-Hancock, Andrew & Elizabeth - UK
Bacon-Smith, Elizabeth - USA (FL)
Bailey, Sue - UK
Bennett, Carole - UK
Berg, Christine & Hulsbergen, Rola - The Netherlands
Bernecker, Daniela & Oliver - Germany
Boeijen, Miriam & Kees - The Netherlands
Bohan, Tom - USA (ME)
Campbell, Greg - UK
Carla, Marini - Italy
Christelle - France
Costello, Joe - Ireland
Coque, Montse - Spain
Cunningham, Chris & Ali - UK
Daykin, Janet - UK
Dorr, Ciaran - UK
van Duyn, Lynette - South Africa
Egle, Ute - Germany
Everatt, Dave - UK
Ezekiel, Joy & Mark - USA (TX)
Farebrother, Sue - UK
Fleuren, Johannes "Joan" & Lucassen, Hubertina - Thailand
Forsyth, Ken - UK
Franz, Henning & Elke - Germany
Franz, Christoph - Germany
Gavrilin, Roman - Russia
Girrbach, Werner - Germany
Goldfine, Yvette - USA (NJ)
de Graaff, Aad & Bogaard, Gery - The Netherlands
Grepstad, Jon - Norway
Gutschmidt, Caren & Kloss, Hans - Germany
Hadassah - Israel
Hassinen, Heikki & Kyllikki - Finland
Hiljanen, Sinikka & two friends - Finland
Houghton, Barry - UK
Jessen, Inger & Carlsen, Aage Godt - Denmark
Jones, Alan - UK
Koutselini, Sofia & Kampeza, Maria - Greece
Krasuski, Krzysztof & Ciok, Krzysztof - Poland
Krog, Peter & Lilli - Denmark/Greece
Kuivalainen, Petri & Oljakka, Auli - Finland
Lageveen, Wijbe & Willy - The Netherlands
Lindegaars, Elsebeth - Denmark
Lynch, Paul & Mandravelou, Konstantina - Ireland
MacMillan, Scott & Helen - UK
Martonyi, Eva - Hungary
Massa-Mechiels, Eddy & Ann - Belgium
Mentink, Lydia - The Netherlands
McSweeney, Helen & Hutchinson, Marian & Creasey, Mary - Ireland
Neuberg, Christiane & Detlef - Germany
Nicolaescu, Laura - Romania
Nielsen, Marianne - Denmark
Nolan, Marie - Ireland
O'Connor, Brian & Carol - Ireland
O'Connor, Eileen & Terry - Ireland
O'Mahony, Sheila - Ireland
O'Reilly, Amber & Kierran - UK
Ooievaar, Oscar & Babet - The Netherlands
Parry, Carys - UK
Parthey, Karin - Germany
Pereira, Beatriz & Vieira da Costa, Joao Robert & Pereira Costa, Matheus - Brazil
Peters, Steve - UK
Porter, Anne & Kathy - Canada (NFLD)
Pottier, Ingrid - Belgium
Remy, Judy & Pavaux, Ella - France
Rennie, Elizabeth - UK
Robinson, Jane & 3 family members - Northern Ireland
Roedsand, Violet & Giaever, Ellen & Nilsen, Torunn - Norway
Rohr, Reinhard, Gabriele & Kirima - Germany
Ross, Greg & Ann - Australia
Rucker, Claudia - Germany
Salles, Beatriz - Spain
Sallmen, Päivi & Jääskö, Riitta - Finland
Santi, Mario & Alexandra - Austria
Shaw, Neil - South Africa
Skill, Steve & Bridget - UK
Smale, Christine & Charlie - Jersey
Smith-Porter, Julia - UK
Storms, Claire & Willy Storms - Belgium
Szabo, Zsuzsanna - Hungary
Szántó, Szilvia - Hungary
Tabor, Gudrun & Kai - Denmark
Tanahashi, Yoshio & Keiko - Japan
Torbijn, Peter, Lennard & Bruggeling, Marion - The Netherlands
Tsimperis, Demetris & Pulverich, Kerstin - Greece/Germany
Uunila, Pertti & Penttilä, Johanna - Finland
Vainio, Maire & Pentti - Finland
van der Mark, Gerda - The Netherlands
van Ruth, Liesbeth - The Netherlands
Volk, Connie - Germany
Way, Joe & Anne & Swanke, Jane - USA (WI)
White, Marsha - USA (CA)
Weinrauch, Harald & Weinrauch, Gerda - Germany
Wiles, Colin & Vicki - UK
Zia,Stephanie - UK
van Zwietering, Lia & Dick - The Netherlands


(160)


The Hydra Meetup on June 8-9, 2013




Hydra 2013 badge designed by Maarten Massa




Photo Galleries:



The Hydra Meetup on June 10-12, 2011


The Meetup 2011 Report (at the Leonard Cohen Forum),
with links to other photo galleries








The 2011 meetup on Hydra (June 10-12, 2011)

Participants:

Aaftink, Mary - Canada (ON)
Af - Ireland
Arjatsalo, Eija & Jarkko - Finland
Baron, Jeanne - Florida
Bartels, Anne - UK
Bennett, Carole - UK
Buczkowski, Mary & George - USA (OH)
Carrog, Eleri - UK
Costello, Joe - Ireland
Doupis, Nikolas - Greece
Demmler, Elisabeth - Germany
Daniela & Oliver - Germany
Devreux, Francoise & Aline - Belgium
Dolfino, Andrea & Marco - Italy
Dorr, Ciaran - UK
Egle, Ute - Germany
Everatt, Dave - UK
Evie B - UK
Frauke & Nathalie - Germany
Forsyth, Ken - UK
Franz, Henning & Elke - Germany
Fredy & Gitta - Greece/Germany
Hanson, Audrey - Australia
Hiljanen, Sinikka - Finland
Houghton, Barry - UK
Hulsbergen, Rola & Berg, Christine - Holland
Jaensch, Juergen - Germany/Greece
Justyna & Michael - UK
Koutselini, Sophia - Greece
Krasuski, Krzysztof & friend - Poland
Lageveen, Willy & Wijbe - Holland
Lowe, Todd & friend - USA (TN)
Martonyi, Eva - Hungary
Massa, Maarten & Bats, Wenche - Belgium
Meijer, Miriam - Holland
Mentink, Lydia - Holland
Nedbalek, Dolores - Germany
Nicolaescu, Laura - UK/Romania
Nielsen, Marianne - Denmark
O'Mahony, Sheila & McSweeney, Helen & Hutchinson, Marian - Ireland
Olszewska, Anna - Poland/Italy
Parry, Carys - UK
Piepenbrock, Nellie - Holland
Podebradska, Vlasta - The Czech Republic
Porter, Anne - Canada (NFLD)
Pottier, Ingrid - Belgium
Pulverich, Kerstin - Germany
Remy, Judy & family member - France
Richter, Willi & Irmgard - Greece
Roupalioti, Stamatina - Greece
Sebban, Sam - France
Smale, Christine - UK
Szanto, Szilvia (gallina) - Hungary
Tengelsen, Henry - Norway
Tsimperis, Demetris - Greece
Vossen, Fred-Werner & Brigitte & Matina - Greece
White, Marsha - USA (CA)

(76)






<

The Hydra Meetup (June 12-14, 2009)

Photo Gallery of the 2009 Meet-Up - 150 photos by Eija
Hydra photo show - by Willy & Wijbe



The 2009 meetup on Hydra (June 12-14, 2009)

Participants:

Arjatsalo, Eija & Jarkko - Finland
Avadani, Iona & Voinea, Stefan - Romania
Benedict, Paula & Vincent - UK
Bennett, Carole - UK
Bromfield, Michael
Cohen, Doron - Japan
Costello, Joe - Ireland
Curran, Tony - Ireland
Dolfino, Andrea & Marco - Italy
Egle, Ute - Germany
Everatt, Dave - UK
Farebrother, Sue - UK
Forsyth, Ken - UK
Franz, Christoph - Germany
Franz, Henning & Elke - Germany
Goeschel, Frauke & Nathalie - Germany
Harvey, Russel - UK
Hendrickx, Marc - Belgium
Hiljanen, Sinikka - Finland
Hillyard, Pat & Nigel - UK
Humphries, Margaret & John - UK
Jaensch, Jurgen - Greece
Janavara, Loukia & Mitropoulos, Dimitris - Greece
Kler, Nick - USA
Kolbl, Christian - Austria
Koutselini, Sophia - Greece
Lageveen, Willy & Wijbe - Holland
Landuyt, Dirk - Belgium
Laulan, Dominique - Switzerland
Madder, Lizzie & Dawson, Peter - UK
McCann, Paula - Ireland
McGlynn, Mary-Ann & McClorey, Mary - Ireland
Meijer, Miriam & Piepenbrock, Nellie - Holland
Morris, Linda & John - UK
Nedbalek, Dolores - Germany
Nicolaescu, Laura - Romania
O'Mahony, Sheila & McSweeney, Helen & Hutchinson, Marian - Ireland
Olszewska, Anna - Poland/Italy
Parry, Carys & Roberts, Bet - UK
Pigozzi, Paola - Italy
Pietrasz, Lech & Marta - Tennessee
Porter, Anne & Lane, Ann Marie - Canada
Porter, Kathy & O'Toole, Cynthia - Canada
Pulverich, Kerstin - Germany
Remy, Judy & Harrison, Ella - France
van Ruth, - Holland
Sebban, Sam - France
Smale, Christine & Clements, Amber & O'Reilly, Kieran - UK
Stapleton, Eric - Ireland
Thomas, Sue - UK
Tsimperis, Demetris - Greece
(80)





The 2007 meetup on Hydra (June 8-10, 2007)

See photos from the Meetup!!!

Photos &copy 2007 Eija Arjatsalo, Wijbe & Willy Lageveen, Tom Bohan,
Elizabeth Bacon-Smith, Martti Mueller, Margaret Humphries

Meetup 2007 participants:

Arjatsalo, Eija & Jarkko - Finland
Bacon-Smith, Elizabeth - Florida
Bohan, Tom - Maine
Costello, Joe - Ireland
Darbyshire, Andrew & Tim - Australia
Egle, Ute - Germany
Forsyth, Ken - UK
Franz, Christoph - Germany
Franz, Henning & Elke - Germany
Gansbeke, Antoine & De Wispelaere, Monique - Belgium
Goeschel, Frauke & Nathalie - Germany
Hiljanen, Sinikka - Finland
Humphries, Margaret & John - UK
Jaensch, Juergen - Greece/Germany
Koutselini, Sofia & friend Maria - Greece
Lageveen, Willy & Wijbe - Holland
Meijer, Miriam & Piepenbrock, Nellie - Holland
Mitchell, Anne - Canada
Mueller, Pirkko & Martti - Finland
Nedbalek, Dolores - Germany
Nicolaescu, Laura - Romania
O'Mahony, Sheila & McSweeney, Helen & Hutchinson, Marian - Ireland
Peter & family - Germany
Pulverich, Kerstin - Germany
Rekunen, Sirpa & friend Annemari - Finland
Sak, Alicja, Anna & Kazimierz - Poland
Sakic, Tom - Croatia
Sebban, Sam - France
Smith, Sherry - Switzerland
Triesch, Sylvia & Volkmar - Germany
Tsimperis, Demetris - Greece
de Windt, Gerry & Henk; Baudoin, Monique & van der Steen, Henri - Holland
(54)
The 2005 meetup on Hydra (June 10-12, 2005)

See the 2005 photos!

Participants of the 2005 meetup:

Arjatsalo, Eija & Jarkko - Finland
Bacon-Smith, Elizabeth - Florida
Dolfino, Andrea & Marco - Italy
Fagerström, Mia - Finland
Forsyth, Ken - UK
Franz, Elke & Henning - Germany
Harvey, Russell - UK
Hiljanen, Sinikka - Finland
Humphries, Margaret & John - UK
Jenkins, Paula & Megan - UK
Lageveen, Wybe & Willie - Holland
McSweeney, Sheila & Helen - Ireland
Meijer, Miriam & Piepenbrock, Nellie - Holland
Mitchell, Anne - Canada
Morris, Linda & John - UK
Mueller, Pirkko & Martti - Finland
Nedbalek, Dolores - Germany
(27)



First photo &copy 2007 Jarkko Arjatsalo
Night view &copy 2000 Rauli Arjatsalo

Click on the Sub-Index button to read everything
about the island and the Hydra 2002 Experience