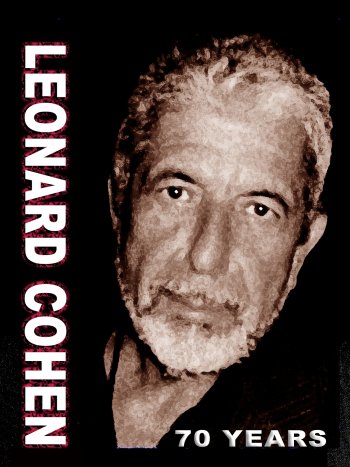 Photo &copy 2004 Anjani Thomas
Click here to see the original photo!
Photo collage &copy 2004 Kadir Ercan
Leonard Cohen will be 70 on September 21, 2004. The Leonard Cohen Files website has launched this birthday present project and invites all its visitors to join. We will do this on cost-sharing basis.


We will have an official Finnish stamp printed to celebrate Leonard's birthday. A recent color photo shot by Lorca Cohen will be on the stamp (both the stamp and the photo will be shown on this site after the Birthday). The stamp will be official Finnish stamp for any domestic or international use, but will be printed in limited number and will not be sold anywhere. Leonard will get sets of the stamp with names of all the fans who have participated. There will be also a more traditional birthday present. We have some ideas already, and the final choice will be made according to the amount of money we have collected. If there will be any surplus, it will be donated to War Child Canada.