LEONARD COHEN 70 YEARS
SEPTEMBER 21, 2004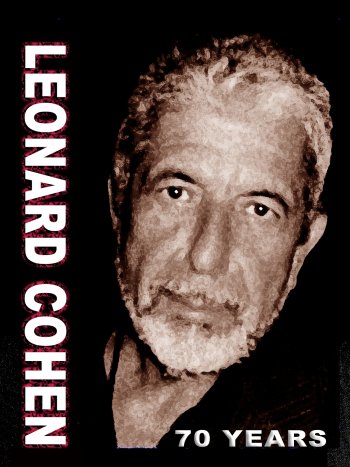 Photo &copy 2004 Anjani Thomas. Photo collage &copy 2004 Kadir Ercan
Click here to see the original photo!










On August 23 we invited all members and visitors of The Leonard Cohen Files and The Leonard Cohen Forum to join a Birthday Project. As a result of a successfull campaign our birthday gift was delivered to Leonard's present address by courier. More than 350 Cohenites sent their contributions during the week we had the invitation on this page! Our present consisted of the following components:


An official Finnish stamp was printed to celebrate Leonard's Birthday. We used one of Lorca's photos, and Ania Nowakowska made the design.

* A Birthday postcard was printed (using the same photo by Lorca). Leonard, his family members, many friends and a number of colleagues will get the card, officially postmarked in Finland on September 21. All contributors will also get the card and stamp to keep as a memento for this very special day.

* DVD documentary and a collection of books about Hummingbirds, Leonard's favorite birds

* A nice donation to War Child Canada was sent to the foundation on September 21, thanks to our contributors


Click on the postcards to see them in larger size (on September 22 the back side photo will be replaced by one with the postmark!)

Original photo &copy 2004 Lorca Cohen
Stamp and postcard design &copy 2004 Ania Nowakowska


Click on the stamp sheet to see it in very large size!



From Leonard:

The package arrived this morning
deeply touched by the thoughtfulness, simplicity, and elegance of these gifts
all the names
such a sense of solidarity
thank you

I have just visited the Forum
so many beautiful voices
thank you for letting me hear them

Love
Leo



"Dad Sabbath" - the original photo by Lorca Cohen (&copy)

Go to The Birthday Thread on the Forum