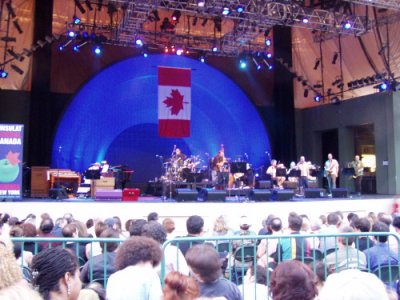 CAME SO FAR FOR BEAUTY


An Evening of Songs by Leonard Cohen Under the Stars
Brooklyn's Prospect Park, June 28, 2003
Report by Thelma Blitz
Foreword by John Bergeron
Photos by Dick & Linda Straub and Thelma Blitz
My hat is tipped to Hal Willner for the most wonderful celebration, which he staged in honor of Leonard Cohen and his Songs. A beautiful evening under the stars combined with the perfect breeze and sound, brilliant musicianship and an overflowing respect for a body of work that kept even the most accomplished artist humbled by its magnitude. As the audience applauded the performance, the performers applauded Leonard's brilliance in each offering. And, the collaboration went on through the night sending love through the ethers to Leonard, the undisputed Master of the Ceremonies. (John Bergeron)


I came so far for Beauty to Brooklyn by the F train from Manhattan and was not disappointed for it was beauty that I found. But there were no stars to be under, clouds got in their way, big soft puffy clouds, not stars but still a nice covering for such a soft pretty night.

The temperature was ideal, the air clean for NYC that has been washed with much rain of late. I arrived at 5:30 P.M., 2 hours in advance to find a line of easily more than 100 people mostly sitting on blankets waiting to be let in. Things were distributed to the line, a free CD Sampler called "The House of Mystery" by John Bergeron, and anti-war, anti -apartheid Christian pacifist literature, an invitation to a documentary in Manhattan. I was joined by friends and the time passed quickly enough. Anticipation of the concert was that Cohen would be "destroyed" by these covers, but most walked out thinking he was honored.

"Celebrate Canada" was the theme and the stage featured a big Maple Leaf. All stood for the playing of "O Canada" and someone spoke on how hard hit Canadian business was by the SARS scare, so they were boosting it by events like this and having the Rolling Stones in Toronto for $16 or some such tiny entrance fee.

I was seated four rows behind the reserve section near the center and could see and hear quite clearly.

First number:There is a War sung by an ensemble of Rufus and Martha Wainwright ( they are brother and sister, son and daughter of Kate McGarrigle and Loudon Wainwright III) and Teddy Thompson, son of Linda Thompson of Fairport Convention and some others I couldn't identify at that time. It was given a rock n' roll treatment. Rufus was the main draw of the night.






2. I'm Your Man by Nick Cave backed by Julie Christensen and Perla Battalla, the back-up "angels" of Cohen's 80's and 90's performances. Both seemed happy and high-spirited and were in top singing form. (Photo above)


Teddy Thompson



Julie Christensen



Rufus Wainwright



Laurie Anderson



Mark Anthony Thompson



Nick Cave and Martha Wainwright



Perla Batalla


3. It Seems so Long Ago, Nancy sung by Linda Thompson and Kate and Anna McGarrigle ( Canadian folksingers).

4. Story of Isaac, a slowed down verson performed by Linda Thompson. She changed the lyric, "I will help you if I must" to " I will love you if I must".

5. 1000 Kisses Deep by Linda Thompson and the Handsome family, performers I never heard of before. The male had a very low voice, the female a high one.

6. The Guests by Laurie Anderson with Julie and Perla backing. A stunning performance, especially Laurie's violin solo.

7. Tower of Song - Martha Wainwright backed by Julie and Perla. It had country and western feel which the crowds loved and cheered for.

8. Tacoma Trailer. The lights on the stage turned blue and we got to hear a heavily orchestrated version of this rare Cohen instrumental composition. Beautiful.

9. Hallelujah - Rufus Wainwright. "How can you spoil this song?" someone around me commented. Rufus did a creditable version.

10. Ballad of the Absent Mare--the Handsome Family

11. I Came So Far for Beauty - Kate and Anna McGarrigle. Surprised that they had to read the song and hadn't learned it.

12. Diamonds in the Mine, - Nick Cave , with Julie, Perla and the Handsome Family. Fierce but not as ferocious as Leonard.

13. A Singer must Die - Julie Christensen. Very impressive vocal.

14. Tonight will be fine, - Teddy Thompson

There was a brief intermission where a middle aged blonde woman from the Canadian consulate came out to praise and thank Leonard Cohen for his work and said he was the sexiest man alive. Others nearby me wondered if he were still alive.

15. The mysterious instrumental lead-in found on the album "Live songs" to You Know Who I am was played by Mark Ribot then the song was sung by Kate McGarrigle.

16. Dress Rehearsal Rag was performed by a someone I wasn't familiar with, Mark Anthony Thompson, a light skinned black guy with wild but short dread hair.

17. The Traitor, a song many were not familiar with performed by Martha Wainwright.

18. Heart with no Companion by the Handsome Family, performed as a Square Dance. Yee Hah!

19. Bird on a Wire - Perla Battala, solo, clear and sweet capturing all of Leonard's nuance. Outstanding cover.

20. Chelsea Hotel #2; Rufus Wainwright really lived there and says it's changed but didn't say how. Rufus seems to make Leonard's songs his own.

21. If it be Your Will - Laurie Anderson, Perla and Julie backing. High soprano , sweet but weaker than original.

22. Famous Blue Raincoat - Handsome Family

23. Alexandra Leaving - Teddy and Linda Thompson.

24. Suzanne - Nick Cave. Was surpised he had to read the lyrics. Doesn't everybody know them?

25. The Future - Teddy Thompson

26. Everybody Knows - Rufus Wainwright.

27. Winter Lady - Kate and Anna Mc Garrigle

28. Anthem - Julie Christensen. During this song which included the line "While the killers in high places say their prayers out loud" the crowd let out the greatest cheer of the night. What could they be thinking of in the land of George Bush, beset by Osama Bin Laden? Didn't the concert begin with "There is a War"?

29. Don't Go Home with your Hard-on. This not too popular song from "Death of a Ladies Man" sung by Rufus and Nick Cave did not communicate with the female audience member who have no hard-on of their to go home with though often they go home with someone elses.. If Rufus thinks you can now go home with your hard-on because the sodomy laws were repealed, he didn't understand the song. But what the hell? Next the musicians were introduced one by one. Steven Bernstein, musical director, trumpet (see the photo below, he is on the left). Rob Burger, accordion, pianos, organs, bass harmonica. Marc Ribot, guitar. Michael Blake, sax, Charlie Burnham, violin, Don Falzone, bass, Maxim Mosten, violin, Joan Wasser, Violin, Kenny Wollesen, drums. Finally, Hal Willner, brains behind the whole event, came out on stage for a brief and modest bow.


So ended a concert which, though three and a half hours long, seemed to go by in an eye-blink. The crowd was rapt, spell-bound. Jaws dropped, eyes stared fixedly,and people sat at the edge of their seats. Their faces looked as if they were in church or in love. More respect was given to Leonard Cohen by a New York audience than to Puccini. When I went to see Turandot in the park a few weeks ago people were playing frisbee and getting loudly drunk on beer and wine during his best arias.

And speaking of refreshments, you could only buy the products that sponsored the event. E.G.-- you could only get Snapple so, you couldn't buy a coke. Some people were bummed by this. $6 for a mozzerella cheese sandwich, but we knew it was for a good cause-- supporting this "free" concert.

In the audience one row behind me was the great videographer Mitch Corber, Thin Air video, author of and interviewer on the audiocassette "A Conversation with Leonard Cohen" which I recently took out of the New York Public Library.

Only a few old fans complained about the absence of Leonard--the music was too upbeat, cheerful, happy, spirited-- it wasn't Leonard Cohen. And where was Judy Collins? Joan Baez? Where was Loudon Wainwright who gave his name to the new generation? These complained the concert was was too long. Most of the crowd of young people in their thirties were very happy with the covers and thrilled with new batch of performers.

They came so far for beauty and were well rewarded.



Read more about the concert on the previous page

Text and title photo &copy 2003 Thelma Blitz
All other photos &copy 2003 Dick and Linda Straub
Used with permission. All rights reserved. Any other use forbidden.