FAMOUS BLUE RAINCOAT


Jennifer Warnes, 1986
1. First we take Manhattan 3:44
2. Bird on a wire 4:42
3. Famous blue raincoat 5:33
4. Joan of Arc (with guest vocal by Leonard) 7:47
5. Ain't no cure for love 3:19
6. Coming back to you 3:42
7. Song of Bernadette 3:58
8. A singer must die 4:50
9. Came so far for beauty 3:57


Total time: 41:37. Produced by C. Roscoe Beck and Jennifer Warnes.
The album was issued in 1986 by Cypress Records, California.


Ira Nadel tells the story (Life In Art, page 130):
"In late 1986, Cohen achieved a new dimension of fame when Jennifer Warnes released her cover album Famous Blue Raincoat. Cohen and Warnes had, of course, known each other for years. Singing on 1972 and 1979 tours, she had become one of his principal backup singers, adding a lilting voice to offset his gravely croak. When she decided to record her cover album, she chose arrangements that feature the upbeat sound of contemporary music and invited Cohen to sing on "Joan of Arc", which they recorded in March 1986 at The Complex in Los Angeles. To assist Warnes in producing the album, Cohen moved back to Los Angeles for four months and reworked several songs. He also aided in the making of the video for "First We Take Manhattan..."

Critical acclaim and commercial gain greeted the release of Famous Blue Raincoat, which thrust Cohen into musical spotlight again. The album reached number eight in England, and went gold in Canada. Worldwide, the album sold over 750.000 copies and was largely responsible for reintroducing Cohen to North American audiences."


Part of the cover art of the German 12' vinyl maxi single
"First we take Manhattan" issued in 1987 by BMG Ariola München.
Side 1: First we take Manhattan, 3:59, Side 2: Famous blue raincoat 5:32
German promotional single Ariola 109328 with Bird on a wire/Coming back to you
(also available on maxi-single, both 1987). From the collection of Dominique Boile.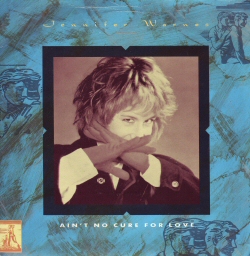 British promotional single with Ain't no cure/Song of Bernadette
(PB49585, RCA/Cypress Records, UK 1988). From the collection of Dominique Boile.
Famous Blue Raincoat:
20th Anniversary Edition (2007)
This deluxe new reissue contains four previously unreleased songs and a 24-page booklet with rare photos from Warnes' personal collection. Digitally remastered from the original analog tapes. Released by Shout Factory (August 2007).

Bonus tracks:

10. The Night Comes On
11. Ballad Of the Runaway Horse
12. If It Be Your Will
13. Joan Of Arc (alternative outtake)




The album has also been re-issued in a vinyl 3-LP box (180g, 45rpm). For more, go to www.elusivedisc.com


---
More about Jennifer on this site. Connect with
Jennifer's homepage at www.jenniferwarnes.com

To read Greg's Rock Remaster Review on this record, go to SoundStage.


Music Connection cover from Dominique Boile's collection