TOWER OF SONG


September 1995


1. Don Henley: Everybody knows. 6:09
2. Trisha Yearwood: Coming back to you. 3:36
3. Sting & The Chieftains; Sisters of mercy. 3:19
4. Bono: Hallelujah. 4:57
5. Tori Amos: Famous blue raincoat. 5:37
6. Aaron Neville: Ain't no cure for love. 3:38
7. Elton John: I'm your man. 4:08
8. Willie Nelson: Bird ont the wire 4:20
9. Peter Gabriel: Suzanne. 5:13
10. Billy Joel: Light as the breeze. 6:11
11. Jann Arden: If it be your will. 5:27
12. Suzanne Vega: Story of Isaac. 4:06
13. Martin Gore: Coming back to you. 3:32




Produced by A & M Records. Distributed world-wide by Polydor. There are different covers for the US market and for the other markets. The US cover is a copy of the back cover of Leonard's first album 'The Songs Of Leonard Cohen'. The international cover shows a composer's notebook.

We quote some facts from a story in Billboard, August 5th, 1995, written by Susan Nunziata:

"...Yet, Cohen never seems far from the project; one can almost see him watching over each track, gracious and clad in black, discussing what he terms 'the virtues of the monotone'.
'I'm completely knocked out by the project,' Cohen says. 'I'd be knocked out by even a much lesser display of enthusiasm for my work, but this happens to be singers of stellar quality. I was very interested to hear the various approaches, and I'm very touched by them...

According to (David) Anderle, Cohen selected and contacted many of the artists involved. However, Anderle says Cohen did not get involved in the day-to-day recording. 'I don't think it's my place, and I don't have any motivation personally to monkey around with that side of things,' Cohen says."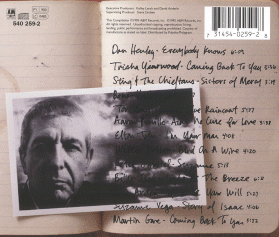 From the PR material of the record we quote:

"'A song, by its' nature, has to move swiftly from heart to heart,' Leonard Cohen says, his voice is intimately resonant as on the 11 major-label albums that confirm his stature as one of our time's most soulful seers. He's calling from Mt. Baldy, a Zen Center southeast of Los Angeles, in a cabin 6,200 ft up the mountain. Cohen's current residence may be remote, but his influence has never been more immediate.

An enigmatic figure, elegant in trademark dark suits, he's now part of popular music's very fabric: disclosing the secrets of spirit and flesh, his songs are the bittersweet poetry of the way we live. Tower Of Song movingly celebrates Leonard Cohen - 13 of today's brightest stars of pop, country and alternative music each choose the Cohen song that most deeply touches their hearts and render interpretations as rich and various and original as Cohen's own remarkable body of work.

Cohen's response? 'Gratitude. I am very, very happy when anybody covers any of my songs. My critical faculties go into immediate suspension.' And those critical faculties are notoriously acute. Ever since the 1967 release of The Songs Of Leonard Cohen, the songwriter has been known for painstaking craft. In these days of pre-fab creativity, he preserves, composing on guitar and synthesizer with the rare attentiveness of a master. 'I tend to be blackening pages habitually. Some of the songs take years to bring to completion. None comes easy.' After all, he insists, 'This is one's work. Everything else is kind of shipwrecked, bankrupt. So all you have left is your work - and that's what you're doing most of the time. That's the only area which you can somehow govern or clarify. All other things remain somewhat mysterious and messy.'

Tower Of Song presents Cohen's gems in brilliant new settings. Billy Joel lays bare the gospel soul of 'Light as the Breeze', Sting and the Chieftains imbue 'Sisters of Mercy' with Celtic fire and Elton John rocks 'I'm Your Man'. Willie Nelson delivers 'Bird on a Wire' as a wise lament and Aaron Neville charges 'Ain't No Cure for Love' with country yearning. Suzanne Vega sings 'Story of Isaac' with crystalline grace. Tori Amos, alone with her piano turns in a lush, romantic 'Famous Blue Raincoat' while Bono makes of 'Hallelujah'' a statement equally stark and sacred. 'Everybody Knows' get a wry, smart reading from Don Henley, and in the deft, contrasting takes of 'Coming Back to You', Trisha Yearwood and Martin Gore find a message that's both timeless and absolutely contemporary.

Riveting and indelible - the kind of music that demands repeated listening - these songs convey the essence of Cohen; his subtle understand of the ways of the heart. 'I'm generally working with very complex emotions that I'm having a lot of trouble deciphering,' he says. 'So I have to keep paring things down to something I myself can grasp.' That loving labour, like that of sculptor unlocking the beauty of stone, has given these singers - and us - art that lasts, that communicates in a language as strong and powerful as the mountain where the poet now, in the early hours of dawn, resume his work."

As many readers of these pages know, there was a lively discussion in the alt.music.leonard-cohen Newsgroup about the interpretations on this record. As usual, there are differences of opinion. Some more critical writers have described Elton John's 'I'm you man' as a karaoke version while Bono's 'Hallelujah' is certainly... different. Of course this is a matter of taste!