FARHAD MEHRAD
IRAN


Hey, that's no way to say goodbye
Master song
Suzanne
Hey, that's no way to say goodbye on the album "Khaab dar bidari" was released in the 1990s (no exact year known). Here we have first Iranian rock and roll album which the Iranian government allowed to be released since the revolution more than 20 years ago. The singer does a great cover of this song by Cohen. He sings in English, accompanied by piano only. Other tracks include "Yesterday" and "Don't let me be misunderstood". There are also many Iranian songs.

Farhad is a legendary Iranian Rock/Folk musician. He was the first Iranian musician to record original (western style) guitar based ballads. He spent many years as a political prisoner during the seventies; due to the social-justice themes in the lyrics of his songs. After the revolution, he was forbidden from recording any kind of music for ten years. The western style of his music was not to liking of the Islamic Republic censors.

This recording has historic significant in that it is the first western style (non-traditional) recording that was legally produced and marketed in Iran after the revolution. With this album, created a venue for experimentation and non-traditional musical style. He paved the way for other, younger, musicians in Iran to create and record their own music with out fear of persecution. Also, the fact that his popularity endures after more than a decade of forced silence is a tribute to his and his music.

The Album' s name Khab Dar Bidari (Day dreams) was taken from a poem of the same name by Juan Ramon Jimenez. The poem is also the basis for the second song of the album.

- Roxanna Bahro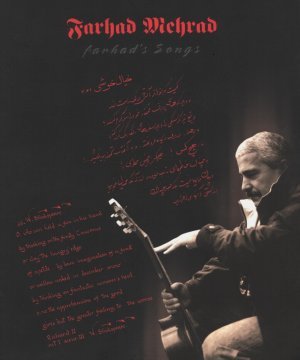 Farhad Mehrad was born in 1944 in Tehran and died in Paris in 2002. After his death a boxed set of 5 CDs (or cassettes) was released in 2003, simply called 'Farhad'. The CD's in which three Cohen songs appear are called 'Phoenix' and 'Alba'. These two CDs are collection of his mostly English songs (all cover versions). He sang in German and French as well (only couple of songs). The other three CDs are a collection of his Persian songs and his rare interviews. He wrote songs himself, too. And sometimes he would translate into Farsi from old poets of the English language and add his own music.

Due to the strict rules and censorship of all Western things, the Islamic government in Iran has banned Western pop music. Farhad's box is a rare exception - thanks to the importance and influence of Farhad the rules were bent in his case.

- Soheyl Dahi




Visit www.farhadmehrad.org
to read more and to order the CD box


* * *


Thanks to Roxanna Bahro and Soheyl Dahi
for the cassettes and information!