Hydra is one of the easiest islands to get to from Athens. You can take one of several ferries that leave from the main harbor of Pireaus. The ferry takes about 3 hours and is one of the nicest trips you can take. Or you can take the Hydrafoils known as the Flying Dolphins that leave continously from Zea Marina which take around 45 minutes. It's a good idea to buy your tickets in advance especially during the summer and on weekends. There is also a one day Saronic Gulf cruise that stops in Hydra.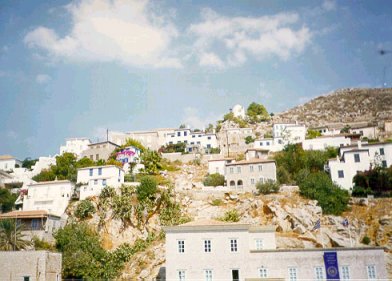 Hydra is one of the Saronic Gulf islands which includes Aegina, Angistri, Poros and Spetsis. Of these Hydra is the most unspoiled even though it is the most popular. The reason is because growth has been limited and while the other islands expand outward to accomodate tourism, Hydra has not and most of its visitors just come for the day because there are not enough places for them to stay. If you do want to stay overnight, or over many nights, which I sincerely recommend, then I would book a hotel in advance during the summer.
Because of its proximity to Athens it is the perfect island to visit in the way-off season. There are usually people there, especially during weekends, including the odd writer or poet wintering on the island. If the weather gets nasty you can hightail it back to the nightlife of Athens.
Hydra is perhaps the most beautiful port village in all of Greece. A tiny harbor ringed with cafes, restaurants and gold shops, is followed by a village of stone houses and villas, tiny squares that rise up the hills like an ampitheatre. But one of the best things about Hydra is that there are no cars. Everything is moved by donkey, including groceries, building supplies, people and their luggage.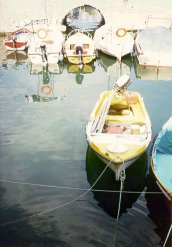 Hydra is the former home of Leonard Cohen and stomping grounds of Mick Jagger, Keith Richards, Pink Floyd and many other famous and not so famous people. Hydra is a little expensive, but not as bad as Mykonos and there are still bargains to be found. The food is mostly excellent if you stay away from the cafes on the waterfront. There are a couple good bars, but as you will find throut Greece, the bars are mostly a rip-off.
There is not much home-made wine available, at least not for the tourists, but at one place called the Platanos, they do serve it. It's easy to recognise by the huge shade tree that covers the tables in a small platia (square). After dinner, go to the supermarket and buy a bottle of wine or a couple bottles of beer and walk around the port and up the hill until you get to the small fort that overlooks the mainland.
If you want to go for a midnight swim, there are diving platforms down below and the sea is lit by phosphoris. If you do have that primal urge to party then you are in the right place. Hydra is Mykonos Jr. and there is no shortage of bars and discos, whose clientele include super and not so supermodels and varying species of Euro-trash mixed in with some very genuine people.
More informative then a travel agent or the tourist police his info is free. The main hobby on Hydra and on most islands is people watching. Though the cafes are expensive, you can get a coffee or a soda and sit there all day long. Nobody will ask you to move like they would if you sat in a diner in the states all day with one cup of coffee.
If for some reason you can't find a place to stay, hike up the hill near where you swim. In a small forest there is a monument that looks over the sea. It's the grave of a wealthy Hydriot. You can crash there, he won't mind and if you are quiet and clean up after yourself nobody else will either. If you are not a sleeping-out kind of a person it is a good idea to book a hotel before you come through a reliable travel agent. Rooms are available but you may have to search for them.
As for the rest of the island, if you walk along the coast you will come to Kamini, another village that appears to be an extension of the main village. If you continue walking you will come to a small settlement with 2 or 3 restaurants and sort of a beach. The restaurants are cheap and the food is good and if you don't feel like walking back, there are guys in little motor boats who will take you back for a couple hundred drachma.
To leave the island I recommend the ferry rather then the Flying Dolphin. You can sit outside and watch the sunset. You pass between Poros and the mainland and it is like taking a trip down a river. You'll get to Pireaus in time to get to your hotel in Athens, shower and go out on the town. If you go south in the other direction from Hydra you can take the flying Dolphin to Monemvassia, a dramatic Medieval castle perched on a gigantic rock in a sea of German tourists. You can also continue to Kythera, a beautiful untouristed island. There is also a flying Dolphin to Naphlion and the island of Spetsis has wonderful beaches