LADIES AND GENTLEMEN...
MR. LEONARD COHEN

CANADA 1965






On the soundtrack:

I have not lingered in European monasteries
Prayer for Messiah
A kite is a victim
Disguises
Beneath my hands
Here was the market
Twelve o'clock chant
As the mist leaves no scar
The genius
On hearing a name long unspoken
Three good nights
Alexander Trocchi, public junkie, priez pour nous
Hydra 1963
The only tourist in Havanna turns his toughts homeward
The music crept by us




Informal portrait of Leonard Cohen. The film begins with Cohen delivering a comic monologue about his visit to a friend in a Montreal mental hospital. Later he is seen reading poetry to rapt audience and also alone, or relaxing with family and friends, walking the streets of the city, eating in a popular night spot, sleeping in his three-dollar-a-night hotel room, even taking a bath. His poetry readings are principally from "A Spice-box of Earth" and "Flowers for Hitler". A press conference with Cohen and his friend Irving Layton forms a part of the film.

Filmed and recorded at various locations in 1964, released in 1965 by the National Film Board of Canada. Directed by Donal Brittain and Dan Owen, produced by John Kemeny. Black & white, 44 min.



The home video / DVD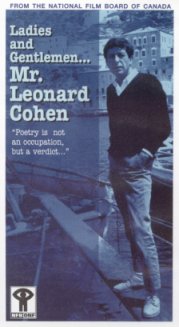 The documentary was released on home video in 1994 by National Film Board of Canada.
Available also on DVD since 1999. Region 1 encoding (US and Canada only). Bonus items: Four Short Films: I'm Your Man, directed by Roslyn Schwartz, Poen, directed by Josef Reeve, A Kite Is A Victim, directed by Elizabeth Lewis & Angel, directed by Derek May. Also (incomplete) discography. 61 minutes. Dolby Digital 2.0 Stereo. 44 min. Black & White. Product #: 113B 0165 088.

Watch or download the film on NFB's website here