RED NEEDLES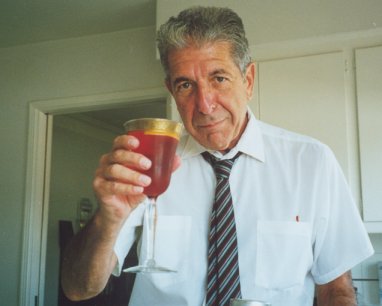 Red Needle is a drink created by Leonard in Needles, California,
in Summer 1975. See My Life In Art, in his book
Death Of A Lady's Man, 1978.

More than 15 years later, the drink re-appeared during
recording sessions for the 1992 album The Future
to assist Leonard and his musicians in their endeavours.

Now we have the recipe for you!

Tequila
Cranberry juice
Ice
Lemon and/or exotic fruits
Leonard mixes some Red Needles in his kitchen in Los Angeles...
...Cheers, friends! Terveydeksi!
---
Photos &copy 1999 by Jarkko Arjatsalo
Photo of Leonard & Jarkko &copy 1999 by Kelley Lynch
Los Angeles, June 1999. All rights reserved.