THE WINTER 2001 QUIZ

PAINTINGS BY ELIZABETH LAISHLEY




On this page we show you fourteen new paintings by Elizabeth Laishley, Canada. Every painting has been inspired by one of Leonard Cohen's songs. In our Winter 2001 the participants had to identify these 14 songs.

All these paintings were on display at the Poetry & Songs of Leonard Cohen Exhibition at The Centre Gallery in Calgary, Canada from November 14th to Dec. 16th 2000.

All these paintings are for sale. If you are interested, please contact Elizabeth directly at elaishle@ucalgary.ca.

More paintings created by Elizabeth are shown in the Inspiration section, and on the Winter Quiz 2000 Page. Plese note that Elizabeth may or may not have used the same titles again in this new series of paintings.

Winners and their Prizes:

The live album "Field Commander Cohen" signed by Leonard:

Barb Davis, Quebec, Canada, 14 points
Kim Bertrand, Canada, 12 points
Solveig Struksnes, Norway, 12 points

The Warsaw 1985 concert:
Fiona Harrington, UK, 12 points
We got about 150 lists. Nobody except Barb gave correct title to song #1 (The War). Barb had a certain advantage: she had seen the paintings at the Art Exhibition in Calgary; that's why we gave out three FCC albums instead of two.The FCC CDs were kindly donated by Leonard and Kelley.

Seven contestants found 12 correct titles. The draw took place in a most neutral way in the Leonard Cohen Newsgroup on Feb 3. More than 20 others were able to name 11 songs. Thanks to all participants!
Jarkko

Elizabeth's comments on some of the most difficult titles are shown below.


1. There is a war: You probably were not able to make out the hand granade the woman is holding in her hand. Money and handcuffs are also my interpretation of the battle between the sexes.

4. Hallelujah. There is a little dove in the clouds. The whole painting is my interpretation, I cannot even explain why Hallelujah made me feel like this. Clasped hands as a sign of clsoseness, then losing each other, clasping into nothingness.

6. The woman is not necessary Marianne, more of a symbol, not sure if it is a woman leaving or a new woman getting into the picture.

7. I hope the blond Madonna was the clue, as well as the "working class mustache". Also the sensation of the players in the picture all caught in a spider web, struggling to get out until finally giving up and staying in their seperate frames.

8. Who could miss the green stockings!

9. My reasoning: Love flutters away with the wings of a butterfly. Also there is a temple and changing a name is getting a new mask, which unconsciously happened to look like an Oscar, either because the Oscars were on when I painted this picture or I believed Cohen deserves one.



- Song 1: There is a war




- Song 2 - Sisters of mercy




- Song 3 - Ain't no cure for love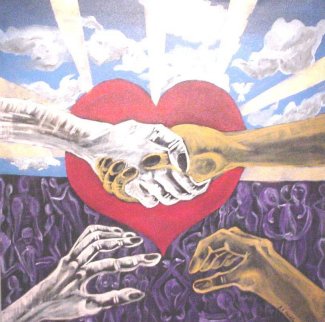 - Song 4 - Hallelujah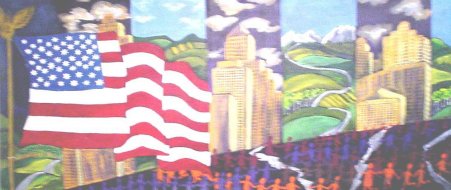 - Song 5 - Democracy




- Song 6 - So long, Marianne




- Song 7 - Death of a ladies' man




- Song 8 - Seems so long ago, Nancy




- Song 9 - Lover lover lover




- Song 10 - Light as the breeze




- Song 11 - The gypsy's wife




- Song 12 - Dress rehearsal rag




- Song 13 - I'm your man




- Song 14 - Story of Isaac


---

Copyright &copy 2000 by Elizabeth Laishley. All rights reserved.
All paintings reprinted here by permission. Any other use forbidden.