SKÖNA FÖRLORARE
SPECIAL EDITION WITH CD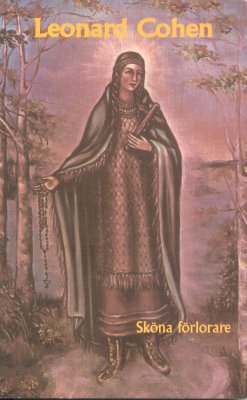 The special edition of Leonard Cohen's second novel Beautiful Losers was published in Sweden at the end of 1998. A special bonus CD is attached in a cover pocket. This edition was limited to 2.000 copies.

The front cover photo (above, left) is a painting of Catherine Tekakwitha, the mohawk indian girl who lived in the 17th century. Leonard has this painting on his wall in his Los Angeles office. On the back cover there is an excellent concert photo by Hols/Semneby showing Leonard on stage on July 15, 1985, in Borgholm, Sweden.






Another painting of Catherine Tekakwitha has been reprinted on the cover flap; Leonard has always this photo with him in his wallet. Finally, the other cover flap shows the prayer which has been printed on the other side of Catherine's photo (Its The prayer for the Canonization of Blessed Kateri Tekakwitha). Cohen explains that he has always been influenced by Catherine, his angel: "She still speaks to me".

Leonard has selected two songs for the bonus CD, songs which have something common with the novel. Those songs are There is a war (live in Toronto 1993) and Who by fire (live in Austin 1988). Both songs are taken from the album Cohen! Live (1994).

The publisher of this collectors' item is Bakhåll. ISBN 91-7742-158-2 (and the CD # is BAKCD9819). Translation by Erik Sandin. For more information visit the homepage of Bakhåll.




Thanks to Henry Denander and Örjan Gerhardsson for the book and information.