LEONARD COHEN'S DAY JOB

AUSTIN LOUNGE LIZARDS

by Hank Card & Kristen Nelson Card



You drive your car in, pull it up on the rack
You promise me faithlessly that you'll be back.
I wait in the pit, it's the fate I have earned
For believing some day you'll return.

To the streets of New York from my tower of song,
I come down to work where the common folk throng.
In my famous blue shirt with its patch that says, "Len,"
Then I go back to write songs again.

Chorus:
Leonard Cohen is working a day job they say, for bizarre
inspiration and hourly pay.
And I swear by the grease in the crease of my hand,
If you need speedy lubin', I'll prove
I'm your man.

I'll beg if I must, 'cause I'm aching to hear your story,
As I check your brakes front and rear.
Can you play a sad waltz on your cheap violin?
Did you have a good time in Berlin?

If Saint Joan should pull in, in her Charger of white,
And ask if it all could be finished tonight,
I'd say, "Let me take a look under your hood,
All that smoke doesn't look very good."

Leonard Cohen is working a day job they say, it's part of the
price every artist must pay.
And I swear by the crud and the blood on my hands,
If you need a tune this afternoon,
I'm your man.

And I swear by the monkey wrench clenched in my hand
If you lack something basic in black,
I'm your man.

On Austin Lounge Lizards Employee of the month (Sugar Hill,
SHCD-3874, Feb. 1998), 13 tunes (TT 39:39), 12-p. booklet with lyrics.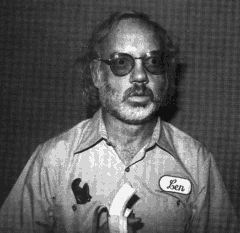 Song by Tom Pittman, who is pictured in work jumpsuit with "Len" patch,
wrench in pocket, and holding a banana.
Sara Hickman as Joan of Arc
5 musicians (first 4 doing harmony vocals)
Richard Bowden, fiddle, violin, cello
Hank Card (leader of the group), high strung guitar
Conrad Deisler, guitar
Boo Resnick, bass
Paul Pearcy, percussion

The Lizards are a folk-bluegrass-country group. Many but by no means most
of their songs are novelty or parody songs. The group has wonderful
harmonies and hot picking (in the bluegrass mode).





---


Copyright &copy 1998 by Austin Lounge Lizards.
Reprinted here with permission from Tom Pittman.
Thanks to Nancy White and Rudi Schmid for help in making this page.