LEONARD COHEN STAMPS





Click here to see the official Leonard Cohen Stamps
released by Post Canada on September 21, 2019!






Stamps of Guinea Bissau (2016)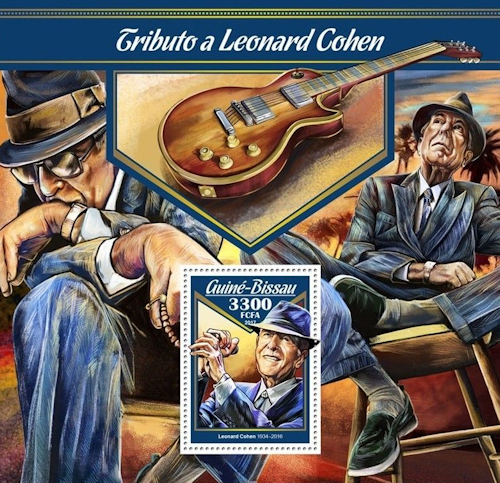 Release date: December 20, 2016

These stamps are sold by stamperija.eu in Lithuania

First Day Covers:


---
Personalized Stamps from All Over the World
11th Leonard Cohen Event in Budapest (2018)


Personalized stamp issued by Hungarian Post.
Designed by Eva Martonyi.
Original idea Ann Mechiels and Eddy Massa.
The stamp is valid for one domestic standard letter in Hungary.


---
Leonard Cohen 80 years (2014)


Stamp designed and produced by Heidi Schwartz, Germany
to commemorate Leonard Cohen's 80th birthday on September 21, 2014
Printed by Deutsche Post AG
Photo by Heidi Schwarz from the concert in Pula, Croatia, in 2013




Heidi also had this "Postage Paid" post card
printed, with the same personalized stamp


---
Stamps from Indonesia (2007)


All stamps produced by Juang Siahaan
Printed by the Indonesian PTT in 2007



---
Leonard Cohen 70 years (2004)


This stamp was produced by the members of the Leonard Cohen Forum
to commemorate Leonard Cohen's 70th birthday on September 21, 2004.
Photo by Lorca Cohen, designed by Ania Nowakowska.
Printed by Suomen Posti, the Finland Post.
More about this project here